May 23, 2016 —
Categorized in: Latest Blog from Vibrant
Why We Fought to Make A Film About Mental Health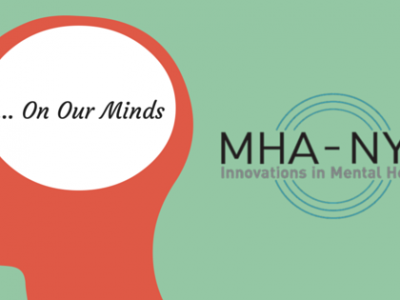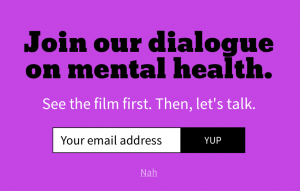 A few years ago, I read a pair blog posts, from professional screenwriters, about how you don't often see depression in films or on TV.
The (somewhat understandable) general concession from each writer was that it's tough to get a general audience to follow a character whose state renders him/her more "passive" than "active" – in conventional Hollywood storytelling terms.
Both writers also took the time to point out that this was unfortunate, when viewed against the reality of just how many people suffer from depression within the population at large.
But that last part is exactly why my wife Rebecca and I ultimately decided we had to make The Videoblogs.
The trouble with the above, as we saw it, came as a result of looking at where we felt society was headed in the technological age, and what "reality" had come to look like on film and television during this same time period.
Screens are everywhere, these days. People are spending more and more time consuming media entertainment on their phones, laptops, tablets and TVs.
But if the reality is that many of those people are suffering in some way from depression or anxiety or another mental illness, then whole swaths of the population aren't seeing life as they know it on their screens. Further, they (we) have been missing out on the benefits of seeing lives like ours in film or on TV.
This includes not only the potential for feeling understood, that could provide a spark or foundation of hope for the individual, but also the multiplying effect in these terms that can come from the sort of community that can coalesce around art.
We made The Videoblogs, first, as a means of illustrating the difficulties that so many like us have struggled with and continue to struggle with, in a country where mental health is not talked about enough, or as honestly, as it could be. Along the way, though, we also began to see the project as a means of contributing as activists, leveraging the film to help its audience coalesce around the topic of mental health.
That's why we're touring nationally with The Videoblogs, beginning on May 7th in New York, and following through much of Mental Health Month in May. Rebecca and I want to show up, in person, to watch the film with our audience and then discuss it with fellow advocates in each city. We're also sponsoring a contest, The Videoblogs Dialogue, in order to pay it forward and continue the conversation on mental health with the help of tomorrow's artists.
People who suffer from depression aren't "passive" – even if they appear that way from the outside, to the casual or uninformed observer. They're battling a sickness.
We believe it's time to illustrate that, and, with the assistance of the rest of the community, to help compassionately educate others on what mental illness looks and feels like. Further, we want to show that none of us are without hope, especially when we have each other.