April 18, 2017 —
Categorized in: Latest Blog from Vibrant
Ticket to Wellness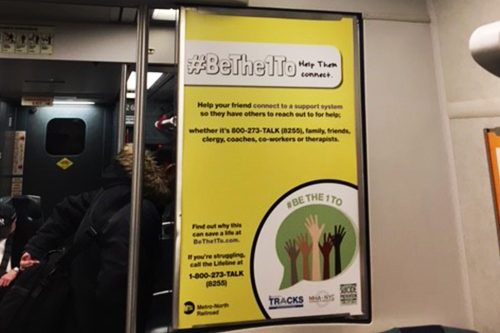 The National Suicide Prevention Lifeline, which MHA-NYC administers in partnership with The U.S. Substance Abuse and Mental Health Services Administration (SAMHSA), provides resources and support for anyone in distress, anywhere in the country, any time of the day or night.
This winter, the Lifeline teamed up with Metro North to take suicide prevention another step further – into the lives of our daily commute. As part of the Lifeline's #BeThe1To campaign, which stresses that we all have a role we can play in preventing suicides, Metro North displayed suicide prevention action steps on 67 LCD monitors at 31 stations throughout its Harlem, Hudson and New Haven Lines. Life-saving suicide prevention action tips were also displayed in kiosks at all 124 of Metro North's New York and Connecticut station platforms, and #BeThe1To posters were hung in an additional 1,000 train cars along the line.
"#BeThe1To is about giving people practical steps they can take if they are worried about a friend or a loved one hurting themselves," explains Ashley Vactor, the creator of the viral social media campaign. "All of the steps are simple and can be done by anyone and they genuinely save lives. Educating the public about them can make a huge difference."  With the help of partners like Metro North, MHA-NYC is getting the word out that no matter who we are – or where we are – every one of us can be the one to offer help and hope.