June 9, 2017 —
Categorized in: Latest Blog from Vibrant, What's Happening at Vibrant
Pride Month: Celebrating LGBTQ+ Crisis Center Staff and Remembering Pulse, One Year Later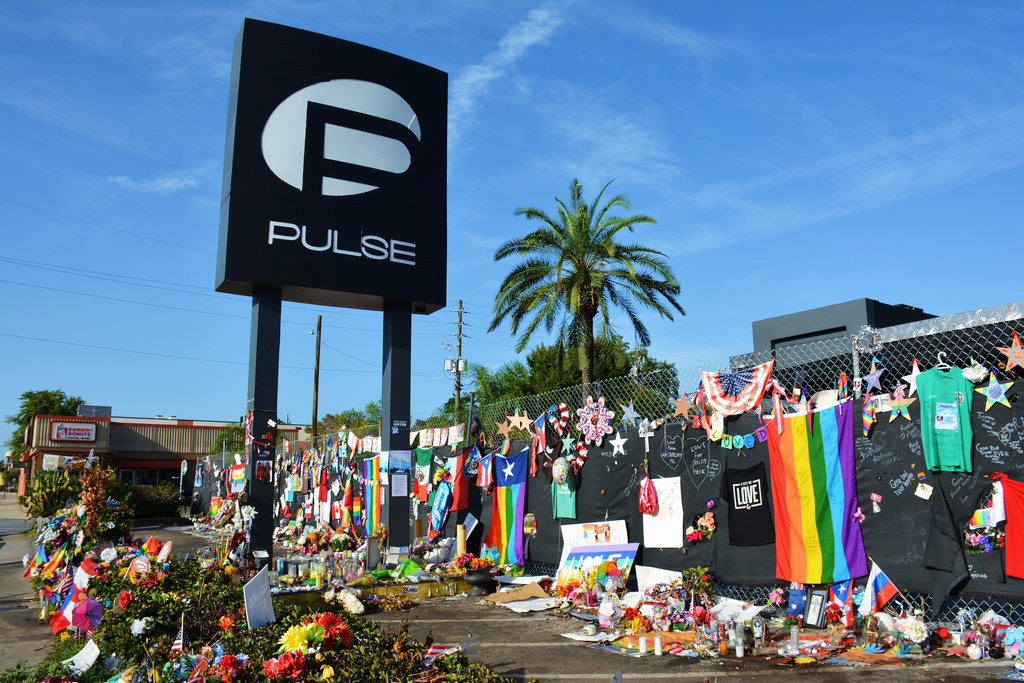 By Christian Burgess, Director, Disaster Distress Helpline, MHA-NYC
"…Always interested in making a positive impact on people's lives and in the community…"
"…Wouldn't want anyone to spread hate for her; she'd rather they spread more love, keep friends and family close, and have a good time doing it…"     
"…A proud and fierce advocate for her LGBT family…"
"…He was the one person who used to come to my office every day and make sure that I was having a good day…"
Those are some of the remembrances left by loved ones of victims of the Pulse Nightclub terrorist attack on a memorial page published by NPR a day after the incident, which occurred on June 12th, 2016 and became the largest mass shooting in modern U.S. history.
The Pulse nightclub shootings also happened during Pride Month, deepening the pain behind this traumatic event and the amazing response in the days, weeks and months to follow within and in support to the LGBTQ+ community in Orlando (and beyond).
And so, reflecting on those heartfelt remembrances of the lives cut so tragically short and the overall beautiful strength & resilience behind what it means to be LGBTQ+, I wanted to combine these two themes for this blog: A snapshot of queer* identities within the Lifeline family of crisis centers in honor of Pride Month, while also remembering the Pulse shootings and what it was like to be LGBTQ+ and serving as a crisis counselor that day and in the days and weeks to follow.
To help me explore these themes, last month I sent out an informal survey to the National Suicide Prevention Lifeline network of crisis contact centers. Following are a sampling of responses received, all edited for clarity and brevity.
(*Note: For the purpose of this blog and in the survey questions/responses, the use of the word "queer" is meant to encompass the diversity of sexual and gender minorities that comprise the LGBTQ+ community, and not meant to be a pejorative term, which I recognize and respect if some feel it is.)
Why do you think it's important for LGBTQ+ staff, interns and/or volunteers at your crisis center to be "out" at work, and within the crisis behavioral health profession & movement as a whole?
It's very important for LGBTQ+ staff to be out at work at the crisis center and in the behavioral health profession because it's further proof that being out and being part of the community is okay and is 'normal'. Not only does it help us to be more empathetic with our callers who are going through LGBTQ-related concerns, but it makes the entire staff more comfortable talking about these issues and being open about others' lives. It helps create a more open and honest working environment that hopefully breeds more comfort and respect in the workplace. –Heather, Counselor, NYC Well, New York City
How have you been supported for being out as an LGBTQ+ staff person, intern or volunteer at your crisis center? Are there any other ways your crisis center has supported LGBTQ+ staff and its local LGBTQ+ community, overall?
Even in my office of people that deal with clients from all backgrounds, there are still those that fear members of the LGBTQ+ community. My particular crisis center management staff embraces those from all backgrounds, especially those from the LGBTQ+ community. It is a welcoming environment, safe environment, and after the Pulse tragedy, our office became one of Orlando's Safe Places for LGBTQ+ community members to take shelter if they are being harassed or bullied. Our crisis center values all of its staff, and as a member of the LGBTQ+ community, I have not felt more welcomed in my employment than I do with Heart of Florida United Way. –Wyatt, 2-1-1 Specialist/Crisis & Suicide Counselor, Heart of Florida United Way, Orlando
From day one, I have always been transparent about my sexuality and gender fluidity and not only has it been accepted, it has been praised. I consider myself lucky to be able to surround myself with such incredibly accepting and encouraging colleagues. Being in this type of atmosphere surrounded by such empathetic human beings makes it easier to face the harsh realities that come with working with crisis situations each and every day. –Tommy, Counselor, NYC Well
Describe any challenges you have encountered for being an out LGBTQ+ staff person, intern or volunteer? How do you feel the overall crisis behavioral health profession as a whole can improve in supporting LGBTQ+ staff, crisis contacts, clients, etc.?
Being an out queer person with a femme-sounding (and, I hope, gentle and calm-sounding) voice, sometimes I take calls from people who tell me they don't want to talk to a woman; this frustrates me because all the volunteers I work with are skilled, well-trained crisis counselors regardless of gender. Most of the time, however, I think my clear English and woman's voice helps people feel safe talking with me. Unfortunately, I think this also means they perceive me as part of the hegemony; and while I don't like the erasure of my queer, mixed-race identity, I am grateful to be in a position to serve the callers' emotional needs. –Nes, Volunteer, San Francisco Suicide Prevention
Honestly, my biggest challenge is that I don't know how my department at the crisis center overall views the LGBT community, primarily the administration. I know they've supported straight couples, but I don't know how they'd feel about a gay couple. We've never celebrated the LGBTQ+ staff or done anything for Pride month, and I've been working here for over 15 months now. [Anonymous]
Ways that the overall crisis behavioral health profession can improve is to continue to focus on cultural competency, and educating those professionals that are not LGBTQ+ on the community. -Wyatt
It's been almost one year since the tragic shootings at the Pulse LGBT nightclub in Orlando. What kind of impact did the shootings have on your work in crisis behavioral health, if any? How did the shootings impact you as an LGBTQ+ person, overall?
After the shooting, I was conflicted: I wanted to be more unapologetically proud of my identity, but part of me was admittedly nervous, because the insecurities from growing up in an unaccepting environment have stuck with me in the back of my mind. Going forward, I think it feels right to stand up and keep being my queer self. –Nes
I remember right after the shootings there was a brief period of time where I was afraid to leave my home. I just recall being scared that something like that could have easily have happened to me. I think it also re-affirmed my mission to want to help the LGBTQ+ community because it really opened my eyes to the injustices that this community has suffered and still endures. For me, I was able to take the horror of that day and translate it to something greater – it made me want to become more involved and more dedicated to the mission that I have agreed to serve. –Tommy
And finally, from Wyatt, Heart of Florida United Way:
I work at the Orlando/Central Florida crisis center. I also was a frequent customer of Pulse. I was supposed to have gone with a friend that night to celebrate his birthday, but the last minute, I was added to a wedding and ended up in Chicago. The night of the tragedy, my phone blew up with people checking on me, and after everyone knew I was okay, my crisis de-escalation skills became necessary. Friends were calling in a panic, scared, and completely unsure what was happening. Immediately, I started coordinating with my employer to offer any assistance I could offer. Upon my arrival back in Orlando that Monday, I went right in to work and jumped on the phones. Clients were calling terrified to leave their homes. Many members of the LGBTQ+ community called, scared that this targeted mass shooting meant that they were not safe, simply because of who they were or who they loved. Heart of Florida United Way partnered with the City of Orlando and Orange County and set up the Victim Center at Camping World Stadium (formerly the Citrus Bowl). Services of all kinds were there. The FBI would conduct an intake, ensuring that those seeking services were directly impacted by the tragedy, either a person that was there, or they were related to a person that was there. I got to volunteer at this site as an intake greeter. Each person that arrived would come to check in, we would search for their name, or the name of their loved one, on our list of victims (known deceased and treated at hospital) and set them up for the FBI intake. It was a challenge to see those that I knew, and even those that I didn't, coming in bandaged, in wheelchairs, on crutches, or the family of those I knew. I had spoken to many of them over the phone in the days after the incident. To this day, we still receive calls where people are in crisis or suicidal and this is a tragedy that is talked about and part of the person's reason for not wanting to live any more. Since the incident, I have only been to the club once, and did not feel comfortable. I do feel though, that it brought not only the LGBTQ+ community together, but Orlando and Orange County, and the nation as a whole together. I am proud to say that I am a resident of Orlando and a member of the LGBTQ+ community.
Thanks to Wyatt, Heather, Tommy, and Nes for sharing their thoughts for this special Pride Month blog, and to all of the LGBTQ+ and straight-allied crisis counselors, supervisors, administrators and office staff who are essential to our work in supporting people in crisis year-round, and following disasters and other traumatic events.
We Are Orlando/Somos Orlando, We Are Pulse, and We Remember.