June 20, 2017 —
Categorized in: Latest Blog from Vibrant, What's Happening at Vibrant
Leading the Way in Innovation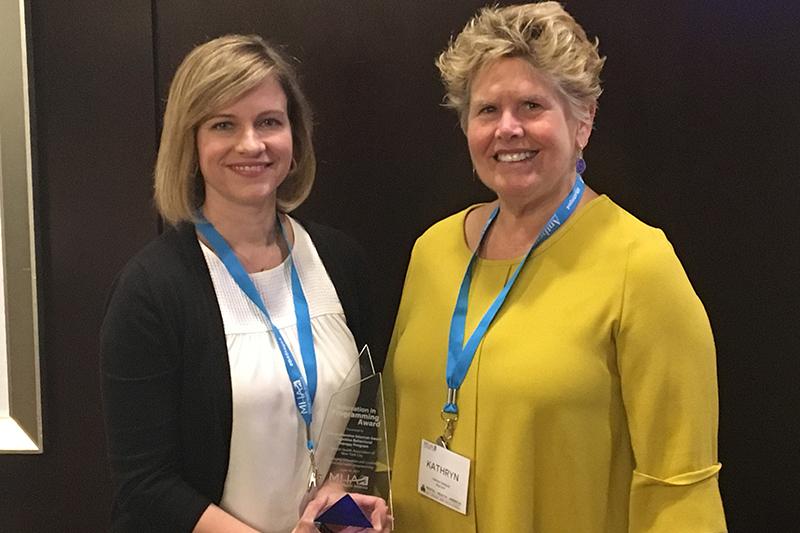 On June 14, 2017, MHA-NYC was awarded Mental Health America's 2017 Innovation in Programming award at the Mental Health America Conference in Washington, D.C. The award recognizes MHA-NYC's groundbreaking efforts to offer internet-based cognitive behavioral therapy with live telephone, text, and chat support. The programs can be accessed by computer, tablet, or phone.
In collaboration with Magellan Health, MHA-NYC is the first organization in the country to offer evidence-based CBT with live supports. This program has produced similar outcomes to office-based treatment for anxiety, depression, and more at a fraction of the cost. With this innovative programming, it is possible to utilize technology to tackle the problem of delays in access to care, as well as the shortage of clinicians trained to deliver cognitive behavioral therapy for a range of common behavioral health conditions.
Through this program, MHA-NYC has reached diverse audiences, including corporate wellness program clients, as well as over 4,000 individuals affected by Superstorm Sandy. These individuals would not have had access to behavioral health services otherwise.
We thank Mental Health America for this award, and for recognizing that technology can be harnessed to bridge gaps in care. At MHA-NYC, we strive to continue our work to increase access and provide quality care for all, both in New York City and across the United States.
For more information, see the press release here.