July 3, 2023 —
Categorized in: Anxiety, Disaster Distress Helpline, Disaster Mental Health, Family, Latest Blog, Latest Blog from Vibrant, Mass Violence, Mental Health, NYC, Stress, Vibrant Updates, Violence
June was Gun Violence Awareness Month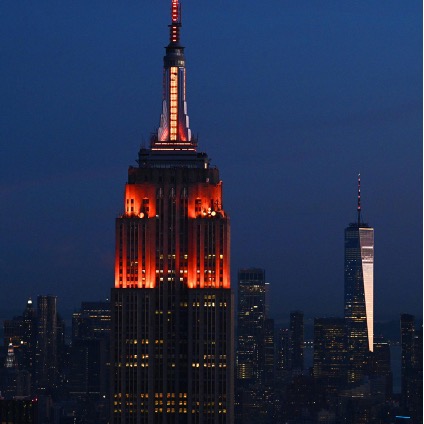 Images provided by Valerie Silecchia.
On June 2, Americans wore orange to honor survivors of gun violence. The observance was a somber and empowering day, holding the weight of devastating deaths and an urgent movement to raise awareness and inspire change. The nation mourned the recent one-year anniversaries of the white supremacist mass shooting of Black elders in Buffalo, New York and the Robb Elementary School shooting in Uvalde, Texas. These events and consequential instances of mass gun violence prompted a nationwide response from mental health care providers hoping to support healing for a community of survivors.
Vibrant has received the call for support and has answered by investing in and strengthening our disaster crisis services in our official roles and personal lives. This includes more comprehensive training for crisis response and trauma-specific care for survivors.
Deac Michelsohn, Peer Engagement Specialist at Vibrant Emotional Health, facilitates our Disaster and Distress Helpline's (DDH)  Online Peer Support Community for Survivors of Mass Violence. This resource cultivates a safe space for survivors, first responders, and loved ones to share their experiences, receive emotional support, and find solace in knowing they are not alone.
"With the rapidly growing incidents of mass violence in our country, it can feel like an overwhelming issue to face alone, but there is hope for those impacted by gun violence through the benefits of peer support," said Deac Michelsohn. "Together, we can empower and support one another to create safety, an invaluable treasure taken by many survivors."
In addition to DDH's crisis support programs, Vibrant's Public Policy Coordinator, Valerie Silecchia, has been involved in her local Moms Demand Action (MDA) group for several years. Together, they organize events, foster community, and advocate for policy changes to end gun violence.
"Our children's mental health has been negatively impacted by so many things over which we feel we have little or no control – the pandemic, bullying, and the adverse effects of social media – reducing gun violence and their fear that they might not be safe in their schools is something we CAN affect," said Valerie.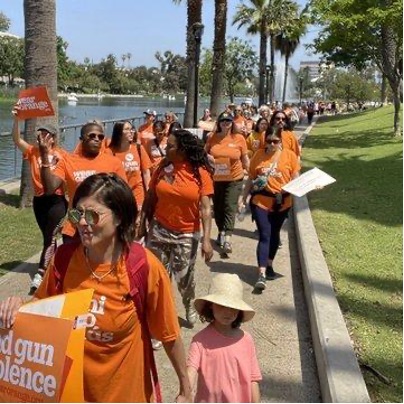 Valerie's MDA group was part of the hundreds of EveryTown organizers hosting Gun Violence Awareness Month events during the first weekend of June. These events promote countless resources and feature real action folks can take now – including family-centered prevention methods, mental health research, and funding local youth programs.
"Adults must take action to keep children safe, so they are never forced to decide if they need to run or fight," said Valerie. 
June also marked the first anniversary of the Bipartisan Safer Communities Act, signed by President Joe Biden on June 25, 2022. Provisions within the legislation include:
expanded background checks
support for gun violence prevention programs
stricter penalties for "straw purchases"
clarified definitions of gun sellers
closing the "boyfriend loophole" for gun purchases
The Bipartisan Safer Communities Act also increased funding for mental health programs, including school-based mental health programs and the 988 Suicide and Crisis Lifeline, which offers emotional support to individuals in a mental health emergency or other distress. The Bipartisan Safer Communities Act funded $150 million for the 988 Suicide and Crisis Lifeline. This funding was provided to states to strengthen their crisis continuum by building capacity within 988 Lifeline crisis centers, creating specific supports for historically marginalized communities, and identifying and supporting the expansion of mobile crisis teams that can be deployed rapidly throughout the state to address mental health during an emergency.
Vibrant is proud to be a committed partner in the prevention and postvention of gun violence. The community is dedicated to supporting survivors and their families, using research-based frameworks to promote communal healing.
To hear more stories from survivors, visit our Strength After archive. And if you or a loved one are interested in joining our community, you can find us on Facebook. The future of mass violence is unprecedented, but our work in violence prevention doesn't have to be.