May 4, 2016 —
Categorized in: Latest Blog from Vibrant
Help Us Support National Children's Mental Health Awareness Day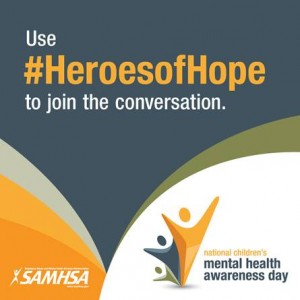 In celebration of Mental Health Awareness Month, the Substance Abuse and Mental Health Services Administration's (SAMHSA) National Suicide Prevention Lifeline is supporting National Children's Mental Health Awareness Day (Awareness Day) efforts to increase access to behavioral health services and supports for children, youth, and young adults who experience mental or substance use disorders and their families. The Awareness Day 2016 national event—"Finding Help. Finding Hope."—will take place on Thursday, May 5, at 7 p.m. EDT in Washington, DC. The event will be webcast live and will be archived for on demand viewing.
This year's highly interactive format will feature youth and family leaders, educators, law enforcement officials, and behavioral health professionals discussing how strategies to improve access to behavioral health services and supports. SAMHSA is also debuting Awareness Day Live!—an opportunity for individuals and communities to interact with the national event by viewing the live webcast and sharing questions and insights via digital and social media.
Engaging in Awareness Day provides local-level Lifeline centers with a way to raise awareness of your services and share your expertise with a national audience. Here are a few easy ways in which your center can participate:
Organize a group of youth to participate in the Awareness Day 2016 Text, Talk, Act discussion on May 5.  Text "START" to 89800. Text, Talk, Act is a text messaging platform that leads small groups through a conversation about mental health and how to help a friend in need.
View the live Awareness Day national event webcast at your center on May 5 at 7 p.m. EDT. Gather a group of colleagues and friends to participate in Awareness Day Live! by joining the onstage discussion via digital and social media using the hashtag #HeroesofHope.
Join the social media conversation leading up to May 5 by sharing insights and perspectives on what's happening at your center. You can do so via Twitter, Facebook, and Instagram by using the hashtag #HeroesofHope.
Host a viewing of the on-demand version of the webcast at you center. Consider incorporating a discussion of the unique behavioral health care access challenges and opportunities in your community.
For additional suicide prevention or other behavioral health resources, please visit the following pages:
National Alliance on Mental Illness
National Institute of Mental Health
SAMHSA's Suicide Prevention Page
SAMHSA's Suicide Prevention Resources for Children, Youth, and Young Adults
Awareness Day offers Lifeline centers a great opportunity to become even more involved in children's mental health and participate in this vital national conversation.
SAMHSA hosted the first Awareness Day in 2005 to highlight the importance of caring for every child's mental health, and reinforce that positive mental health is essential to a child's healthy development. Since then, this effort has expanded to encompass a national event in Washington, DC, local activities initiated by almost 1,100 participating communities across the country, and 150 national collaborating organizations and federal programs. For more information about Awareness Day, visit www.samhsa.gov/children.