May 6, 2022 —
Categorized in: Latest Blog from Vibrant, Mental Health, Mental Health Awareness Month, Self-esteem, Staying In Balance, Wellness
4 Practices for Building Your Self-Esteem Today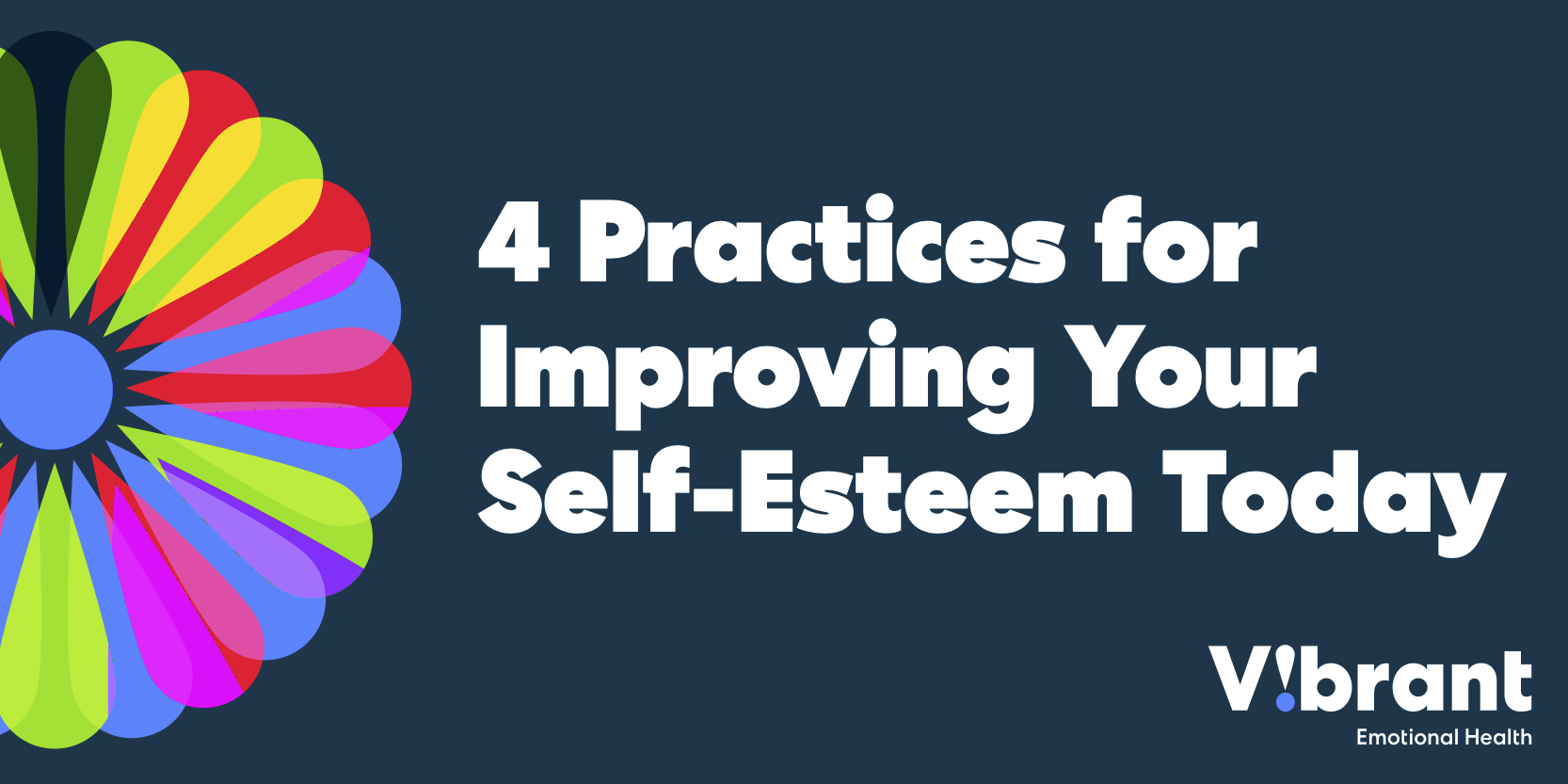 It's not uncommon to desire higher self-esteem. We all want to walk around confidently in our own skin. However, maintaining a healthy level of self-esteem can sometimes feel challenging. Between work stress, the effects of past or present emotional stressors, day-to-day worries and everything else life throws at us, we might sometimes find it difficult to access positive feelings of self-worth.
In this article, we're sharing several ideas and strategies you can use to build your self-esteem and improve the relationship you have with your thoughts. Use them as a starting point. Evolve with them. Send them to those who need a gentle lift.
1. Journal with a purpose
Journaling brings awareness to the fact that negative thoughts are…just thoughts. They're not universal truths. You can decide how much stock to put in them.
Just as we support our physical health with exercise, nutrition, and hydration, journaling is an inexpensive tool to support yourself mentally and emotionally. There's no pressure to produce a specific number of words or ideas. You can just let thoughts weightlessly fill the page…or just part of a page.
You don't necessarily have to record every moment of negative internal commentary. Instead, focus on the frequency that these thoughts occur.
Is a blank page intimidating? Try describing what is happening around you. Root your words in reality as a warmup. For example, "I see the sunlight on the pages of my notebook," or "I can hear the sounds of traffic outside of my window." Then, you might add something about what you're thinking and feeling.
2. Accept compliments
When we feel unworthy, it's uncomfortable to accept compliments. We might begin to believe that we don't deserve respect and recognition from others.
To build a more resilient and positive self-image, it can be helpful to identify positive things about yourself and allow yourself to feel pride in them. This is often easier said than done. So, begin by setting an automated verbal response when you receive good feedback. Don't downplay or dismiss the compliment or recognition you receive. A simple "thank you" can prevent a negative reflex. Then, take a moment to reflect on the positive feedback and allow it to settle into your mind.
As you practice this skill, you may find yourself feeling more and more comfortable accepting positive recognition over time.
3. Activate your body
Exercise is a great way to release endorphins, increase motivation, set and achieve goals, and build confidence. While it does require patience and a dash of motivation, exercise benefits both the mind and body.
The key is detaching yourself from large expectations. Take small steps and show up daily. Over time, the repetition will become incredibly rewarding. For example, let's say you want to take a walk each morning, but when morning comes, it's hard to get out there and do it. Break down the task into smaller pieces. The first step is getting up and getting dressed and putting your shoes on. The next is getting out the door. Then, start walking! Plan for a small amount of time, like 10 minutes. When you accomplish that goal, you'll likely feel glad that you did it – and you may find yourself motivated to take a longer walk that day or the next.
4. Use our Staying In Balance Self-Care Action Plan
Self-care is an essential piece of building and maintaining self-esteem. When we're anxious and overwhelmed, it's easy to forget about ourselves. We stop engaging with our own thoughts and ignore the things that might make us feel better.
As you consider your own stress levels, it's worth taking a minute to see how well you're taking care of yourself. This is why we created our Staying in Balance Self-Care Action Plan. It's a simple personal workshop to help you make a clear, actionable plan. Use it as a benchmark to check-in with your self-care journey.
Our Staying in Balance Toolkit is another option for people who work in the community, including human and social services, civic and arts organizations, and many others in the nonprofit sector. This toolkit is designed for use by supervisors, managers, and frontline staff, with the goal of helping employees, volunteers, and program participants cope during times of high stress.
The bottom line
Improving self-esteem requires a bit of work. But, by taking the time and making the effort, you'll find growth and an emotional return on investment. If you found this article helpful, please consider sharing it as we raise awareness for emotional wellbeing throughout Mental Health Awareness Month.
You can also learn more about spreading our message of hope here.