March 15, 2022 —
Categorized in: Disaster Distress Helpline, Disaster Mental Health, Latest Blog from Vibrant, SAMHSA
A Compassionate Presence in Times of Uncertainty: 10 Years of the Disaster Distress Helpline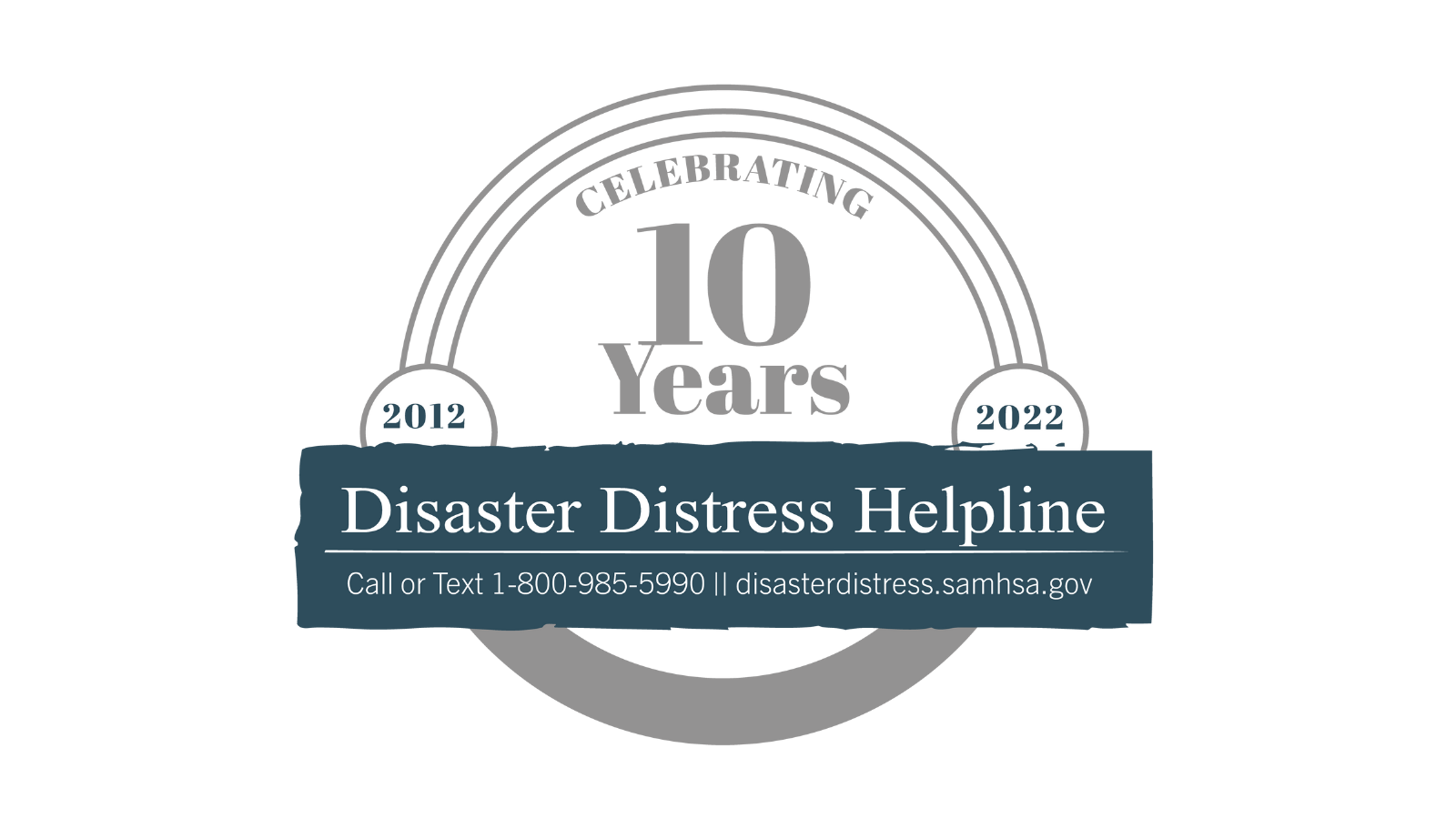 By Lidija Hurni, M.S.Ed., LMFT
Program Manager of the Disaster Distress Helpline
Hope is the cornerstone of emotional recovery from disaster – hope that healing and rebuilding are possible. Since 2012, the national Disaster Distress Helpline (DDH) has worked to instill hope in thousands of individuals by promoting a sense of safety, calmness and connectedness in times of chaos and uncertainty. With natural disasters such as hurricanes and wildfires increasing in frequency and severity, and human-caused disasters like oil spills, water contamination crises and incidents of mass violence having devastating impacts on entire communities, the DDH is a constant presence available to anyone struggling before, during, or after a disaster.
As we mark 10 years of offering crisis counseling and emotional support to people experiencing distress and other mental health concerns related to natural or human-caused disasters, here are ten things to know about the DDH:
1. DDH launched on February 28, 2012
On April 20, 2010, the Deepwater Horizon Oil Well exploded in the Gulf of Mexico, creating the worst accidental marine oil spill in history. As part of the Substance Abuse and Mental Health Services Administration's (SAMHSA) long-term recovery efforts developed in the aftermath of this event, on September of 2010 a confidential, toll-free Oil Spill Distress Helpline (OSDH) and text service was established in partnership with Vibrant Emotional Health, linking individuals to crisis centers located in the Gulf states where trained and caring staff were available 24/7 to those in need. The infrastructure created for the OSDH led to the creation of the Disaster Distress Helpline (DDH), which launched on February 28, 2012. As a nationwide service, the DDH had the potential to serve many more individuals, families and communities impacted by natural or human-caused disasters anywhere in the United States and its territories. Since then, the DDH has helped thousands of people who have reached out for support, and continues to be the only national hotline dedicated to providing year-round disaster crisis counseling and emotional support.
2. DDH counselors can be reached by text
Since its launch, the DDH hotline 1-800-985-5990 has been available for calls, and also via text. The use of SMS/texting as a form of mental health outreach and engagement expanded access to services to many more individuals in need of support. Text messaging is the preferred form of communication for many teens and adults, and messaging allows for engagement with individuals who otherwise may be hard to reach or in circumstances that make phone calls difficult.
3. DDH is multilingual
Individuals who do not use English as their primary language may find it particularly difficult to get meaningful access to programs, services and information following a disaster. Language barriers can lead to additional hardships, slower recovery, and even discourage people from seeking help in the first place. The DDH's services are available to all individuals, regardless of their primary language. Spanish-speakers can contact the DDH at 1-800-985-5990 via a "press 2" option via call or text to be connected with a crisis counselor who is fluent in Spanish. Additionally, DDH hotline services are available in over 200 hundred languages via third-party interpreters. To read, download, and share DDH information and resources in over 30 languages commonly spoken in the U.S., visit our library of resources on Issuu.
4. DDH encourages storytelling as a way to heal
Disasters are characterized by chaos and fear. But after the dust settles, different feelings can settle in: confusion about how to pick up the pieces, grieving over new losses, and distressing reminders of the disaster event. The path toward healing and building resiliency is characterized by survivors' ability to find meaning, personal growth and opportunity from the disaster experience, and storytelling can be one avenue people take toward recovery. That's why in 2018 the DDH launched Strength After, a platform for disaster survivors and responders to share stories of hope and strength during recovery from a disaster. People impacted by disasters can read about others who have gone through similar experiences and how they have coped with challenges. These stories can inspire and give hope to survivors that recovery is possible, and that when they are ready, they too can share their own journey to recovery.
5. DDH is available in American Sign Language
Deaf people are at increased risk for a number of mental health concerns compared to hearing individuals. Lack of accessible resources is a major barrier to people who are Deaf or hard of hearing seeking support. This support is especially important in the aftermath of a disaster, when accessing resources is even more difficult. With this in mind, and in partnership with DeafLEAD, a crisis center serving the Deaf community, the DDH launched the Disaster Distress Helpline Videophone in 2021. The DDH Videophone offers a 24/7 direct connection to trained DDH crisis workers fluent in American Sign Language (ASL). People who are Deaf, hard of hearing, or anyone for whom ASL is their primary or preferred language can dial the DDH hotline at 1-800-985-5990 via their videophone-enabled device OR access the "ASL Now" option via the DDH website.
6. DDH offers Online Peer Support Communities
Peer support is an effective way of helping people move through any difficult situation, including disasters. Peer support offers a level of acceptance, understanding and validation often not found in many professional relationships. Interactions between people who share similar experiences can lead to feelings of hope that recovery is possible. The DDH currently offers three Online Peer Support Communities (OPSC) through Facebook Groups: 1) Healthcare Workers Impacted by COVID-19; 2) Parents and Caregivers Impacted by COVID-19; 3) Survivors of Mass Violence. These online communities offer opportunities for survivors and responders to connect with others who have experienced similar events, share accurate information and trusted resources, and help one another continue to heal from the effects of a traumatic event.
7. DDH volume significantly increased during COVID-19
No single disaster has impacted the DDH's call and text volume like the COVID-19 pandemic. At its peak in April of 2020, call volume was almost 900% higher compared to April 2019, and call and text volume continues to trend noticeably higher compared to pre-pandemic levels. DDH crisis counselors helped mitigate the effects of fear and anxiety about the pandemic, provided support to emergency responders and healthcare workers who were uniquely impacted by the pandemic, and connected people with hundreds of local and national resources. The DDH continues to offer crisis counseling and emotional support to individuals struggling to cope with the pandemic and the impact it continues to have on everyday life.
8. DDH created the Disaster Emotional Prep Kit
Recovery from disasters is an ongoing process that looks different for each individual, and may take months or even years. The DDH offers emotional support 24/7/365, ensuring that anyone is able to reach out for emotional support when other disaster-relief services may no longer be available. To remind folks that the DDH is available year-round, we created the Disaster Emotional Prep Kit, which consists of tips to emotionally prepare for and recover from disasters, and includes available resources. The kit also contains sample social media messages from DDH's Twitter and Facebook accounts, which can be copied or shared from your own social media to help us raise awareness and reach even more people in need of emotional support.
9. DDH partners with disaster-relief organizations
Responding to disasters is a huge undertaking and involves many organizations, each with important roles to play in the process. The DDH partners with several organizations to provide outreach to affected communities and offer emotional support to survivors. Vibrant Emotional Health, administrators of the DDH for SAMHSA, is a member organization of National Voluntary Organizations Active in Disaster, a coalition of 70+ of the nation's most reputable faith-based, community-based, and other non-profit organizations engaged in disaster preparedness, response, and recovery, alongside other federal, state, and local partners. Through our participation in the VOAD movement, the DDH engages in "coordination, cooperation, collaboration, and communication" throughout the disaster cycle.
10. DDH is a network of crisis centers
Of course, none of this work would be possible without the crisis centers that answer DDH contacts. DDH centers are independently-operated crisis centers located across the United States, who are also a part of the National Suicide Prevention Lifeline, with staff trained in disaster crisis counseling and other issues relevant to disaster survivors and responders. DDH crisis counselors provide compassionate support rooted in best practices in disaster mental health and offer resources before, during and after a disaster. DDH crisis centers work around the clock to help those in distress and are at the heart of everything we do.
For more information about the Disaster Distress Helpline, visit samhsa.gov/find-help/disaster-distress-helpline.