June 13, 2014 —
Categorized in: Latest Blog from Vibrant
Youth Mental Health First Aid Training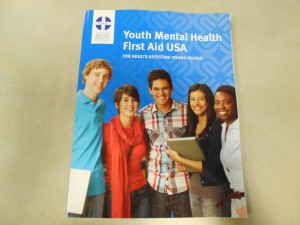 From June 12-13, 2014, MHA-NYC hosted a Youth Mental Health First Aid Training for the Department of Youth and Community Development's programs for at-risk youth. Youth Mental Health First Aid (MHFA) is a course designed to teach citizens how to help adolescents who may be experiencing a mental health challenge, disorder, or crisis until the appropriate help can be received or until the crisis resolves.
This 8-hour course covers typical adolescent development and common mental health challenges youth may experience, including anxiety, depression, substance use, AD/HD,  and eating disorders. MHFA also teaches a 5-step action plan for helping young people in both crisis and non-crisis situations. The main goal of MHFA is for participants to leave with "a basic understanding of what different mental illnesses and addictions are, how they can affect a person's daily life, and what helps individuals experiencing these challenges get well."
Mental Health First Aid is an incredible resource, vital to increasing mental health literacy and decreasing stigma. Perhaps most importantly, it allows people help those in need when professional help may not be readily available.
Are you or is someone you know interested in becoming a Mental Health First Aider? You can search for courses near you online.