October 10, 2017 —
Categorized in: What's Happening at Vibrant
Disaster Distress Helpline Supports Those Affected by Hurricanes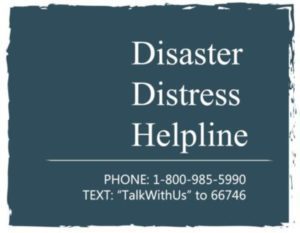 Over the past several weeks, the United States has experienced several major disaster events with long-lasting impacts on both the regions immediately affected and the country as a whole. In the wake of these major disaster events, the Disaster Distress Helpline has seen record call volume, and has risen to meet the increased need.
In late August 2017, Hurricane Harvey became the first major (category 3 or higher) hurricane to make landfall in the United States since Hurricane Wilma in 2005. Hurricane Harvey caused widespread damage to parts of Texas and Louisiana, and also affected areas in Alabama and Tennessee. Within two weeks, Hurricane Irma made landfall in the continental United States, and became the strongest hurricane to strike Florida in terms of wind speed since Hurricane Charley in 2004. Hurricane Irma also greatly affected the U.S. Virgin Islands, Puerto Rico, and other Caribbean locations. Within another two weeks, Hurricane Maria became the tenth most intense Atlantic hurricane on record, causing extensive damage in Puerto Rico, and the U.S. Virgin Islands. In addition to the hurricanes, Las Vegas experienced one of the largest mass shootings in modern U.S. history on October 1, 2017, resulting in 58 fatalities and over 500 people injured.
As the hurricanes and other disasters have impacted the United States, the Disaster Distress Helpline experienced higher call volume in the past six weeks than in all of 2016 combined. Christian Burgess, the Director of the Disaster Distress Helpline, and the rest of the DDH team have been working diligently with partners including FEMA, SAMHSA, NYC Well, and the American Red Cross to increase awareness of the DDH's services, and coordinate messaging and mental health resources in affected areas.
We are especially grateful to our DDH crisis centers, who have provided support to callers and texters during this influx, in some cases even as the hurricanes impacted their own communities. In addition, two centers were temporarily added to the DDH network to provide extra support for surge capacity.
For more information about the Disaster Distress Helpline, visit https://www.samhsa.gov/find-help/disaster-distress-helpline.