July 13, 2020 —
Categorized in: 988, FCC, Latest Blog from Vibrant, National Suicide Prevention Lifeline, Suicide Prevention
Vibrant and 988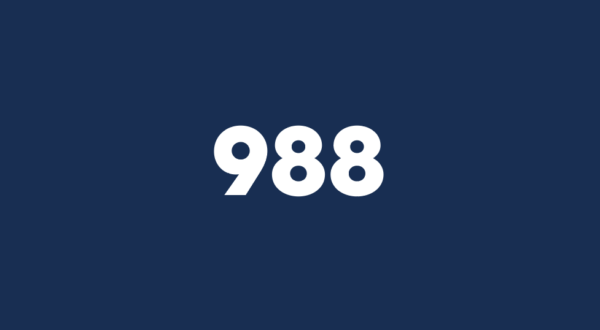 Read Vibrant Emotional Health's statement on 988.
As the current administrator of the National Suicide Prevention Lifeline, Vibrant Emotional Health supports the creation of a three digit number, 988, that would route callers to the National Suicide Prevention Lifeline to increase accessibility of the Lifeline for individuals experiencing distress.
988 is not yet active across the United States and implementation is likely to take at least two years. If you or someone you know is in crisis now, please call 1-800-273-8255 to be connected to the National Suicide Prevention Lifeline.
Why Do We Need 988?
America is experiencing a mental health crisis. But the crisis is not irreversible.
The suicide rate has climbed nearly 30% since 1999 – and the rate has increased in 49 out of 50 states over the last decade.
From 2016-2017 alone, there was a 10% increase in suicides of young persons between 15-24 years old in the US.
Approximately one in five persons above the age of 12 has a mental health condition in the US.
Suicide is the second leading cause of death among young people, and the tenth leading cause of death in the US.
More Americans died from mental health crisis and substance abuse in 2018 alone than have died in combat in every war combined since World War II.
However, suicide is most often preventable. For every person who dies by suicide, there are 280 people seriously consider suicide but do not kill themselves.
Over 90% of people who attempt suicide go on to live out their lives.
For too long, our system for mental health crisis services has been underfunded and undervalued. It's time to meet this challenge with the evidence-based crisis intervention that the 988 crisis line will provide.
What Will 988 Be?
A direct three-digit line to trained counselors can open the door for millions of Americans to seek the help they need, while sending the message to the country that healing, hope, and help are happening every day.
A 988 crisis line that is effectively resourced and promoted will be able to:
Connect a person in a mental health crisis to a trained counselor who can address their immediate needs and help connect them to ongoing care
Reduce health care spending with more cost-effective early intervention
Reduce use of law enforcement, public health, and other safety resources
Meet the growing need for crisis intervention at scale
Help end stigma toward those seeking or accessing mental healthcare
Policy History of the 988 Effort
The road to 988 began with the National Suicide Hotline Improvement Act (H.R. 2345), which was introduced in the U.S. House of Representatives on May 3, 2017. The National Suicide Hotline Improvement Act directed the U.S. Federal Communications Commission (FCC) to study the feasibility of designating a three digit dialing code for the National Suicide Prevention Lifeline. The bill was signed into law on August 18, 2018.
The FCC submitted their report recommending 988 as the three digit dialing code to route individuals to the National Suicide Prevention Lifeline to Congress in August 2019.
Following the FCC report, the National Suicide Hotline Designation Act was introduced in both the U.S. House of Representatives (H.R. 4194) and the U.S. Senate (S. 2661). The legislation includes provisions that would:
Ensure that the 9-8-8 is adequately resourced by requiring SAMHSA and VA to undertake a study of what is needed to ensure a robust network
Allow states the flexibility to levy a fee that would be used to for 9-8-8 expenses, including local crisis centers and crisis outreach, stabilization and mental health providers
Ensure callers in crisis can be kept safe and, if needed, emergency response are able to reach an individual in crisis by requiring the FCC to study the feasibility of providing dispatchable location information
Allow Lifeline to better serve underrepresented/underserved populations/high risk populations by requiring SAMHSA to study and develop how to meet the needs of those groups
In December 2019, the FCC released a notice of proposed rulemaking to designate 988 as the three digit dialing code. Mental health organizations, telecom providers, and advocates submitted comments to the FCC regarding the proposed designation. Read Vibrant's comments to the FCC here.
On July 16, 2020, the FCC voted to designate 988 to be operational by July 16, 2022.
The U.S. Senate passed the National Suicide Hotline Designation Act (S. 2661) in May 2020 and the both S. 2661 and H.R. 4194 remain under consideration in the U.S. House of Representatives.