February 1, 2017 —
Categorized in: Stories of Hope
Priorities Lead to Success: Brandon's Story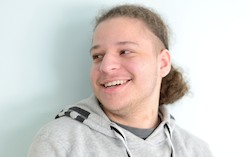 Brandon learned that he needed to set priorities in order to reach his professional goals. At MHA-NYC's Adolescent Skills Center, he's learned to take school seriously and is working with the dedicated staff to get on track as he aims to earn a college degree in business.
Social studies isn't a difficult subject for Brandon, 18, who is also taking on math, science, and reading courses at the Adolescent Skills Center (ASC) in the Bronx. "Social studies is easy," said Brandon. "Everything is in front of you but you have to put your mind to it."
Through MHA-NYC's collaboration with the New York City Department of Education, on-site teachers are available to provide instruction to help participants improve literacy and math skills and prepare for the TASC examination. "We are all here for the same reason – to get our GED (TASC) and move on with life. Everyone supports each other," said Brandon. A diverse staff of case managers, counselors, employment specialists, and teachers, each staff member works to involve youth as full participants in their own care planning.
Brandon is an aspiring "business man" but not too long ago, he had gone through behavioral challenges at school that resulted in suspension. Soon enough, Brandon dropped out of high school all together. "I didn't get along with teachers," he said. "The teachers here [ASC] are more calm. They know how to talk to you and are more respectful about situations and unique challenges."
Brandon is proud that he has identified his priorities. "I want to go to college for business, get a good-paying job, and be somebody who can say 'I finished school,'" he ends.