December 12, 2016 —
Categorized in: Latest Blog from Vibrant
#OrlandoStrong: Six Months After Pulse, We're Still Here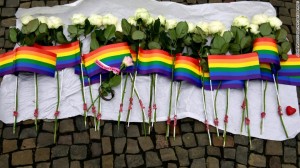 Christian Burgess, Director of the Disaster Distress Helpline (DDH), a program administered by MHA-NYC for the U.S. Substance Abuse and Mental Health Services Administration (SAMHSA), reflects on the Orlando Pulse Nightclub tragedy six months later.
---
On June 12, 2016, 49 people were shot and killed and 53 others injured at the Pulse LGBT Nightclub in Orlando, FL. The incident was the largest mass shooting by a single shooter and the deadliest act of violence against LGBT people in U.S. history. In addition, it was the deadliest terrorist-motivated attack in the U.S. since the 9/11 attacks in 2001.
Despite the scope of this tragedy, inevitably, over time news and other media shifted their focus and so the headlines about Pulse have faded. But just because Pulse isn't at the top of our collective conscious anymore of course doesn't mean that there aren't still people who think about or who are reminded of the trauma of that day – every day.
In other words, people are still struggling. Just as rebuilding homes takes time after a natural disaster, so does emotional recovery. There is no exact formula for how or when someone who was touched by a disaster or other traumatic event is supposed to 'heal'.
And so, six months after Pulse…one year after San Bernardino…four years after Sandy Hook…fifteen years after the 9/11 attacks, it's important for anyone still struggling after these or any natural or human-caused disaster to know: we're still here.
You're not alone. The Disaster Distress Helpline, a program of the U.S. Substance Abuse and Mental Health Administration administered by MHA-NYC, offers 24/7 crisis counseling and support to anyone in the United States or territories struggling with difficult emotions or other mental health concerns before, during, or after any natural or human-caused disaster, including during the long term recovery – whether that takes months or years.
Call or text us at 1-800-985-5990, and you'll be connected to a trained counselor who will listen to what's on your mind, explore healthy coping, and who can provide referrals to other local providers in your community, who are also "still there" after Pulse or another disaster.
Recovery takes time, and recovery is possible.
We're still here, right alongside you, every step of the way on your path of recovery, no matter how long that may take.
---

To learn more about the Disaster Distress Helpline and for tips on coping during disaster anniversaries, click here.