May 5, 2014 —
Categorized in: Latest Blog from Vibrant
Obama Mentions Lifeline in Mental Health Awareness Month Proclamation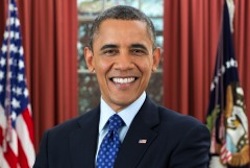 President Obama's speech at the White House Correspondents Dinner became a YouTube sensation over the weekend, but we're still buzzing about his shout out to the National Suicide Prevention Lifeline last week.
In a statement from the White House, President Obama said that too many people with mental illness still suffer in silence and declared May "National Mental Health Awareness Month." The President urged people who are struggling to call 1-800-273-TALK for support.
As we know, less than half of people diagnosed a mental illness will receive care in a given year. President Obama called this unacceptable and pledged to make mental health care more accessible than ever.  He also mentioned a program to promote mental health to students and announced an increase in the number of VA providers who support veterans.
At MHA-NYC, every month is Mental Health Month. Follow this blog along and join us on Facebook and Twitter to find out how we are working to improve the lives of all Americans impacted by behavioral health issues.