August 17, 2020 —
Categorized in: Coronavirus, Latest Blog from Vibrant, Mental Health, NYC
Vibrant Emotional Health and The Coalition for Behavioral Health Launch the NYC Frontline Essential Workers (FEW) Hotline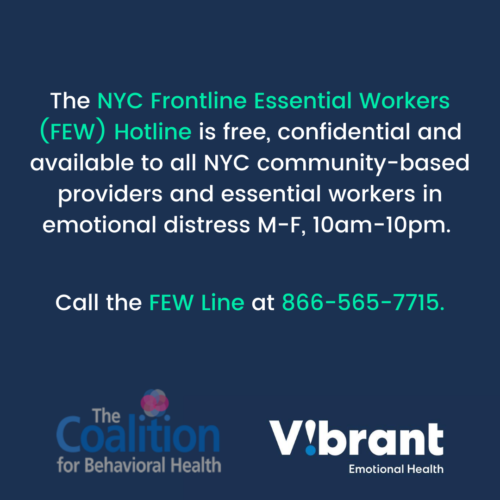 Vibrant Emotional Health and The Coalition for Behavioral Health are proud to announce a brand-new emotional and mental health support line for New York City health and behavioral healthcare workers working on the frontlines of the COVID-19 pandemic. The NYC Frontline Essential Workers (FEW) Hotline is free, confidential and available to all New York City community-based providers and essential workers in emotional distress Monday through Friday, 10am – 10pm. Call 866-565-7715 to connect with a trained mental health professional.
While the media and the public often recognize doctors, nurses, EMT and hospital personnel as the heroes of the pandemic, another, less obvious, group is the essential workforce in our NYC community-based provider agencies serving people living with mental illness day after day. These providers offer in-person care and emotional support to their residents while struggling themselves, unsure amidst a shifting healthcare landscape, and witnessing loss while placing their own lives at risk.
NYC Frontline Essential Workers Hotline provides support, information, and referral for ongoing mental health intervention. Volunteers that answer the hotline are trained on COVID-19 stress and trauma related issues.
If you are a NYC community mental health worker/provider emotionally impacted by COVID-19, or are worried about a provider in your life, call the NYC FEW line at 866-565-7715.