October 29, 2014 —
Categorized in: Latest Blog from Vibrant
MHA-NYC Launches iHelp: Sandy Stress Relief with New York Public Officials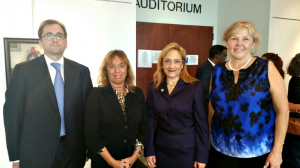 As the two-year anniversary of Superstorm Sandy approached, MHA-NYC joined with New York City Mayor Bill de Blasio and several other state and public officials to promote resources dedicated to recovery, including our newest program, iHelp: Sandy Stress Relief. This new, innovative online program is free and interactive, and most importantly, proven to help the over 700,000 New Yorkers coping with emotional distress during the long-term recovery from the storm.
During a launch event on Long Island, Giselle Stolper, President and CEO of MHA-NYC, and Commissioner Arlene González-Sánchez of the New York State Office of Alcoholism and Substance Abuse, launched iHelp: Sandy Stress Relief at Long Beach Library in Nassau County.
Later that day, Program Manager of the service Melany Avrut, and other staff members on the project, joined Mayor Bill de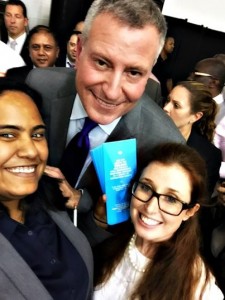 Blasio at the Sandy Recovery Opportunity and Resource Fair in the Rockaways. Both events introduced highly affected communities impacted by Superstorm Sandy to iHelp: Sandy Stress Relief, as a new resource that they can access for long-term recovery.
"Many New Yorkers are still stressed and are suffering from the emotional after-effects of Superstorm Sandy now two years after the storm hit our shores," said Commissioner González-Sánchez at the launch event on Long Island. "With the launch of this new service, iHelp: Sandy Stress Relief, Long Islanders and other New Yorkers who are facing alcohol and substance abuse issues and those who are suffering from depression, anxiety or other mental health problems, can get the support they need right at the click of a computer mouse."
Also joining Giselle and Commissioner González-Sánchez were Legislator Denise Ford and Michael Raab, SANDY Storm Recovery Liaison, who were both representing the Nassau County Executive Office. They spoke passionately about the critical need for the program and gave a first-person account of the storm's impact, remarking on the emotional burdens that each of them, and their community as a whole, still carry.
Individuals who use iHelp: Sandy Stress Relief's online programs will also have the benefit of telephone, text, and chat supports from MHA-NYC's trained, bi-lingual counselors who are available 24 hours a day, 7 days a week. iHelp: Sandy Stress Relief programs are available in English and in Spanish, anywhere there is internet access.
Seth Feuerstein, M.D, CEO of Cobalt Therapeutics, the company partnering with MHA-NYC with to administer iHelp: Sandy Stress Relief, also spoke at the event. He recounted the many memories he had growing up in Long Beach, playing in local parks, many of which no longer exist due to the storm's demise.