April 30, 2014 —
Categorized in: Latest Blog from Vibrant
Introducing Stories We Carry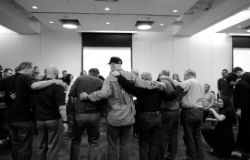 On a Friday night last month, more than 100 people gathered at the American Red Cross in Manhattan to attend the first-ever Stories We Carry event, a unique project that brings veterans and civilians together to talk about the impact of war. Conversations covered topics spanning hot-button, national issues such as PTSD and moral injury to the more personal and historical, such as the guilt still carried by self-identifying Vietnam War "draft dodgers."
Scott Thompson, the Director of the Veterans Mental Health Association developed the Stories We Carry program for MHA-NYC, drawing on his experience as both an Army chaplain and a psychotherapist.
Stories We Carry is both a space for discussion and a venue for artistic performance and expression. During the event, Jenny Pacanowski, a female veteran who once served as an Army Medic in Iraq, read a poem accompanied by cellist Michael Bacon. Animator and documentary filmmaker Dustin Grella showed "Prayers for Peace," a short animated film about his brother who was killed in Iraq.
I recently spoke to Scott Thompson about Stories We Carry to find out why the need for understanding between veterans and civilians is greater than ever.
What was the inspiration for Stories We Carry?
The inspiration came from a combat Vietnam veteran who told a group of civilians that we all had something he needed for his healing, and that he had something we needed for our healing. It was an invitation to enter into community with veterans to talk about war to share the burden and impact more collectively and in doing so would provide something vital and invaluable for both of us.
How does Stories We Carry stand apart from other veteran organizations?
There is no organization in the country that brings veterans and civilians into community for the express purpose of transferring the weight of war back onto the shoulders of civilians on whose behalf veterans were sent.
It is unique in that it is not focused on 'helping or fixing' veterans. It is unique in that it engages civilians to step forward into new relationships and engagement with veterans. It is unique in that it is focused on both veterans and civilians and the reciprocal relationship between them.
What is your ultimate vision for Stories We Carry?
We plan on having Stories We Carry events in every community across the United States and close the gap between veterans and civilians.
We hope our society will take seriously the valuable lessons that soldiers have to teach us, and that they will be accorded a vital status as possessing important wisdom for our society as a whole.
How do the arts fit into your vision for Stories We Carry?
War, for both veterans and civilians is overwhelming and barely containable or expressed with words alone. To deal with this impact both have turned to the arts to give voice/expression to painful and difficult experiences. Stories We Carry invites veterans and civilians to contribute to the community gatherings by sharing some of this creative expression.
Stay tuned on information for the next Stories We Carry event in May.