May 26, 2015 —
Categorized in: Latest Blog from Vibrant
Great News: New Yorkers can now text the HOPEline!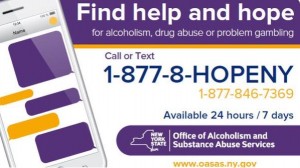 I would like to share some exciting news about the New York State HOPEline addiction referral and support service. Thanks to the partnership between MHA-NYC and the New York State Office of Alcoholism and Substance Abuse Services (OASAS), New Yorkers are now able to text HOPEline counselors to receive help whenever and wherever they need it.
Since 2009, we have worked together on this life-saving program which helps New Yorkers who are struggling with alcohol and substance abuse and problem gambling receive access to treatment and support services. HOPEline was the first of its kind in the United States and has helped thousands of New Yorkers.
At a press conference on May 21, we launched an exciting enhancement to the HOPEline service which allows New Yorkers to reach specially-trained behavioral health professionals through text messaging. This is an important new communications tool, especially for young people who routinely text their friends and families.
We were honored to be joined at the press conference by OASAS Commissioner Arlene Gonzalez-Sanchez; New York State Assembly member Linda Rosenthal, the Chair of the Assembly's Alcoholism and Drug Abuse Committee; and Tatiana Green, a young woman who spoke eloquently about her own journey of recovery and the importance of the HOPEline service.
Governor Andrew Cuomo's office released a press release which offers more information.
Sincerely,
Giselle Stolper
President & CEO of the Mental Health Association of New York City